Mobile First
In 2013, I joined Target admist a replatforming project on Hybris and quickly changed the direction of implementing seperate Desktop and mobile sites into a single responsive website. Building and maintaining a separate mobile site is expensive and time consuming even for a group as large as Target. With the help of the development team the entire project was turned around within 7 weeks and has since been extensively iterated on. It has been a wild success, mobile usage is now at 60% and revenue above 50%.
(Below shows pre responsive site versus current iteration)
Site Consolidation
Legacy direction saw the ecommerce site sitting at shop.target.com.au with a Marketing content site sitting at target.com.au With considerable plans in place to grow the scope of the Marketing site. By showcasing through data the multimillion dollar sales loss, I was able to change this direction, putting the ecommerce site on target.com.au and moving the Marketing content within the shopping journey to enhance conversion.
Deploy, Learn, Iterate
With 75 million visits anually target.com.au has quickly become the leading showcase for the company. As such, ever evolving and increasing demands on the experience require a lean approach that is based out of rapid prototyping, and relentless iterations. A balance between user testing, in depth analytics knowledge and creative innovation to drive experience uplift and revenue growth.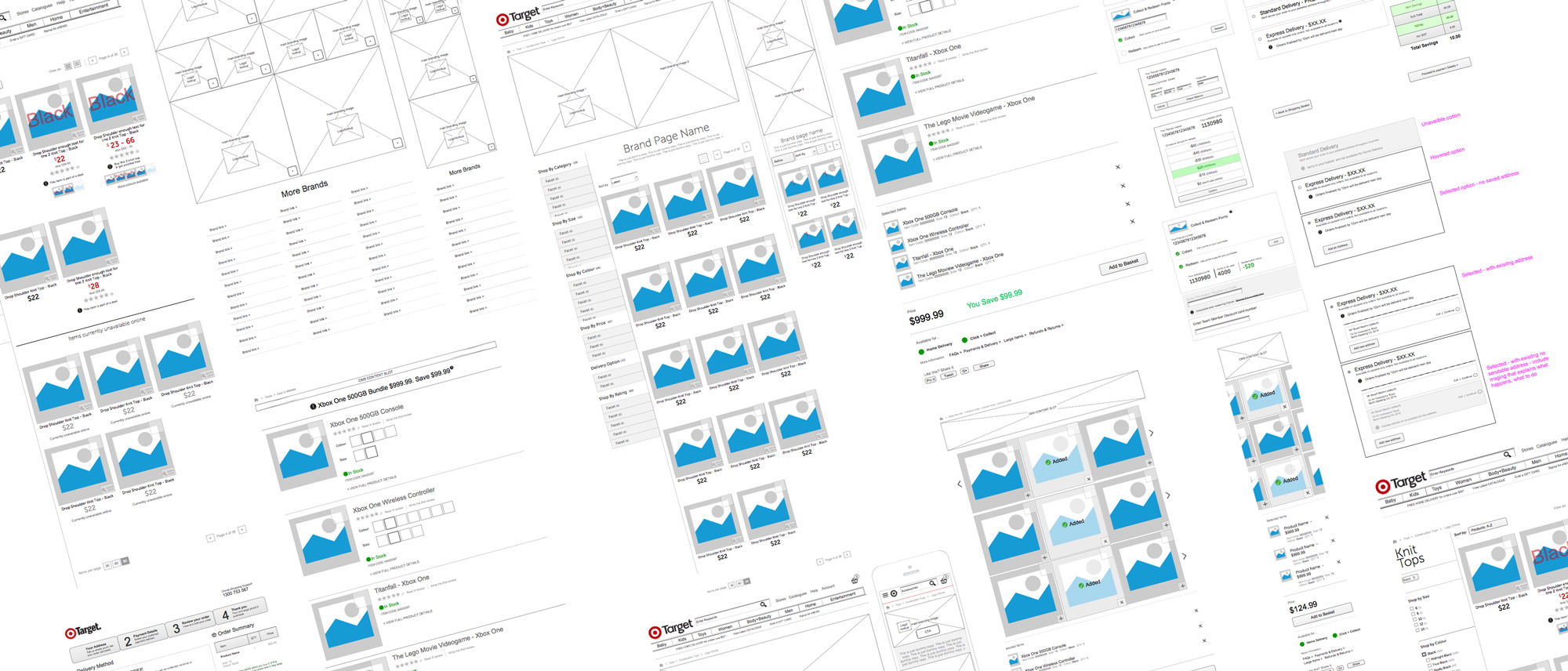 Team management
I have had the distinct pleasure to build from scratch a small, but driven UX entity within Target. Taking multiple Digital Designers and mentoring them in their journey to being highly proficient practitioners. We have built a trusted source of knowledge driving significant change in the business and its results. The team runs alongside its agile dev counterparts delivering uplift while creating a vision of the Target of the future. We are constantly refining our ways of working, design process and deliverables.
Lots Achieved, more to come

✓ Responsive site
✓ UI Kit
✓ Conversion Rate Optimisation program
✓ Site consolidation
✓ Advanced Search engine
✓ Navigation
✓ Taxonomy & Categorisation
✓ SEO
✓ Ecommerce Photography Style Guide
✓ AB - MVT testing program
✓ Google Analytics KPI dashboards
✓ Fullscreen video content
✓ Brand Pages
✓ Deals & Promotions
✓ Flybuys intergration
✓ Single Page Checkout
✓ Find In Store
✓ Sticky Header
✓ Search - Autocomplete
✓ Blog
✓ CMS component overhaul
✓ Favorites
✓ Shot the look
✓ Ratings & Reviews
✓ Afterpay
✓ Livechat
✓ Multi select Facets
✓ Giftcards
plus many many more to come
Find In Store Implementation - Allowing customers to move seamlessly between online availability and store stock lookup
Navigation Improvements - Combining a Taxonomy reset aligned to google search usage, major overhaul of usability that sees onsite search and navigation visually combined to improve usage of both.

Complete overhaul of pages and customer journey with a focus on mobile usage and driving store traffic.